Browsing articles in "Voyages"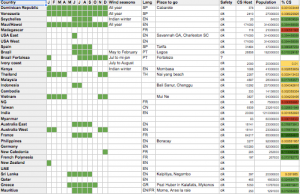 As I am a  kite surfer and couchsurfer, I like to travel in countries where I can do both! So I have initiated this Google doc spreadsheet where we can see where and when is the wind and if it will be easy to meet locals. It is far from complete and in a constant move.
I wish we would live in a wonderful word and I would be able to share this in public writing, but if you want to add/modify any data on this, I will be more than happy to give you an access. Just drop me a message!
A Propos
Bienvenue sur ma page! 20 ans d'expérience dans la gestion de projets m'ont permis de développer un véritable savoir-faire technologique et de concrétiser une double compétence management et technique. Grâce à ma participation à la conception de plusieurs projets, j'ai appris à coordonner des équipes pluridisciplinaires en intégrant les aspects marketing, techniques et administratifs d'un projet. Voir mon CV.